Use your own body's powerful rejuvenating proteins, not artificial components.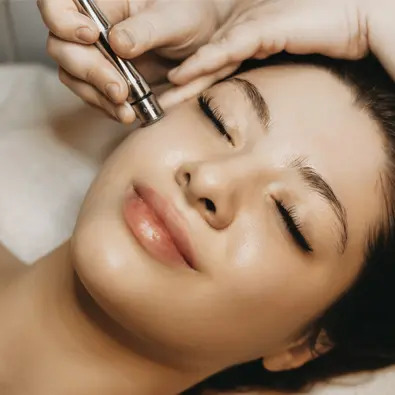 Microneedling with Platelet-Rich Fibrin (PRF) is a prime treatment at CARE Esthetics that uses the mot advanced microneedling tool. We have partnered with DermaPen™, the pioneer of microneedling, on several research projects to advance the field further.
Microneedling is a popular cosmetic procedure that uses 12 sterilized microneedles to micropuncture the skin, resulting in increased collagen production. Microneedling should not be a painful process, but it may cause some discomfort when not done properly.
At CARE Esthetics, we only use the leading microneedling device to give our patients better comfort during treatment.
Microneedling with PRF treatment
Microneedling with PRF is a simple procedure in which we extract a sample of your blood to process your Bio-PRF, which we then apply to your facial skin. Next, we use DermaPen to puncture your skin using a vibrating stamp-like motion, allowing the PRF to penetrate deeper into your skin.
Microneedling and PRF are highly effective treatments individually, but combining them creates a powerful solution to a variety of skin issues.
Microneedling with PRF can treat the following skin problems:
Sun spots
Acne scars
Visible pores
Wrinkles and fine lines
Hyperpigmentation
Rosacea
Hair loss
Benefits of Microneedling with PRF
Microneedling with PRF carries several benefits for people who desire to have a natural-looking, rejuvenated complexion without undergoing extremely invasive procedures.
Here are the benefits you can get from a PRF Microneedling treatment:
Improved skin color, texture, and tone
Reduced wrinkles, fine lines, dark spots, and scars
Increased collagen production
Improved skin health and appearance
Restored hair volume
Partnering with industry-leading DermaPen.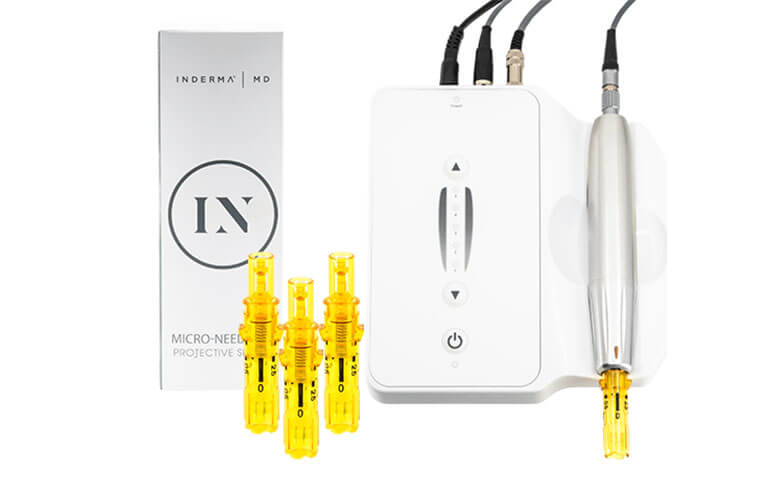 DermaPen™ is the pioneer of micro-needling and world-renowned for improving skin texture. Over the years, CARE Esthetics has partnered with DermaPen on several research projects aimed at further advancing the field. The microneedling device (often referred to as collagen induction therapy) uses a sterile needle-tip containing 12 tiny micro-needles to create controlled micro-punctures to the skin.
Resurfacing of the skin
Reducing/removing fine lines and wrinkles
Improving uneven texture, tone, color
Photoaging or sun damage skin
Reducing skin laxity
Improving scars
Microneedling relies on the principle of neovascularization (new blood flow) that occurs as a result of minimal trauma causing rapid new collagen formation of the skin surface. This skin rejuvenation treatment is performed in an automated fashion with the Dermapen; an electrically-powered medical device that delivers a vibrating stamp-like motion to the skin resulting in a series of micro-channels.
These channels are then filled with platelet-rich fibrin (PRF) or other regenerative agents to further enhance facial skin regeneration.
Frequently Asked Questions:
Typically, a small sample of blood is collected the same way as in a blood lab and is immediately placed in a Bio-PRF centrifugation system to concentrate cells and growth factors up to 10 times higher than what's typically found in whole blood. This supra-concentration of blood (C-PRF) is then topically applied to the face and the micro-needling device then penetrates the cells and growth factors into various deeper layers of the skin to promote the regeneration process. Generally speaking, microneedling with PRF is a go-to treatment modality for smoothing fine lines, wrinkles, acne scars and favors a glow-like healthy and young skin texture.
Within 24 hours, patients will begin to notice an immediate glow of the skin. Collagen production will reach its peak around 2-4 weeks post-therapy and will continue for up to 6 months.
Typically the skin will appear red (similar to a mild sunburn) for 24-48 hours. With PRF, downtime following therapy has been drastically reduced owing to the ability to rapidly increase the body's own natural regenerative cells and growth factors. Almost immediately after the procedure, your skin will generally feel tighter with greater improvements usually observed within 3 days. Depending on your skin color and condition, you may completely heal within 24 hours post-therapy; especially if an appropriate post-treatment skincare regimen is followed.